Wholesale & Dropship Program
At Steel Tiara we offer 2 easy options to fit your specific needs.
The drop shipping program. Perfect if you have a website and would like to  utilize our images, product information, descriptions and more.
The wholesale program. Suitable if you are in retail sales and simply need wholesale products to display for sale.
The Dropship Program
Have you been contemplating expanding your current product selections?  Want to avoid managing more inventory, spending more cash or creating more work?  Well look no more. We can offer you an opportunity to increase your product selections and maximize your profit margins without ever spending any money up front or increasing your existing inventory.
You'll place your customers' orders with us on our website and we'll ship beautiful products of the highest quality to the address provided. We'll send you and your customer a tracking number once your product ships.  If you choose, we will include your personalized card and/or enclosures and do our absolute best to ensure the highest quality customer service. That's it!
Whether you need 1 or 100 products shipped directly to you or your customer we can fill your orders, quickly, efficiently and with ease while you sit back and enjoy your profits without doing any of the work. We'll even include your company name on the shipping label and insert your marketing material into the packaging at no additional cost to you.
The Wholesale Program
If you are, a retailer strictly looking to order stock inventory we offer a customized program created especially for you with a small set up fee of $50 and no monthly membership fees. Our complete selection of products at wholesale prices are available for shipping directly to your store. (The no membership fee program does not allow you to use our images.)
Whether you need 1 or 100 products shipped directly to you we can fill your orders, quickly, and efficiently. You'll place your orders with us by e-mail and we'll ship the highest quality most beautiful products found in the industry today.
Drop Shipping: How it Works
Once you have filled out an application and have been accepted into the program (generally we can have you approved within 24-48 hours), we will email you an excel spreadsheet with the photos, description, Suggested Retail Pricing, your pricing, and shipping rate. We will also provide you with your personal promo code that you use when you order off of the Steel Tiara site. The promo code will give you a 10% discount on all of your orders. You can expect to generate a minimum 10% from our suggested retail pricing with your Promo code (more if you decide to increase your markup, which many of our wholesale clients do!).              
You will be responsible for processing incoming orders from your customer. You will process the credit card and handle all customer service issues regarding the customer, thus keeping that customer as YOUR customer. Furthermore, we will include your company information with the product and on the shipping box. Should you wish to include other company literature (ie. your own business card, brochure) with the products, simply forward it to us beforehand. We understand that customer retention is important and we will never contact your customer. We are solely your wholesaler/drop shipper, and any customer relations are handled by you.
Once you have processed the order for your customer, you will simply order the product off of the Steel Tiara website and use your personal promo code. The Promo code will tell us who you are so we will insert your company information in to the package. When you fill out the contact information on the order form just fill in your customers address and we will ship it directly to them. Make sure to fill in the customers e-mail and phone number on the shipping contact sheet. This is so the courier company can contact them when there parcel arrives.  If you provide your phone number and email the courier will contact you and you will have to contact the customer.
We will assemble, carefully wrap and ship your product from our location in Prince George, British Columbia.
Once your product has been shipped you and your customer will receive a confirmation email and a tracking number for your shipment.
 
That's it.  No tricks.  We have tried to make our program, quick, easy and painless to get you started. Remember, we are successful, when you are successful!
Who is eligible and how do I start
Although it is necessary to apply to the program, it is our wish to allow as many businesses into the program as possible.
 
For the drop ship program, as long as your business is properly registered and you have a website from which people can purchase your products either by internet or phone and the ability to upload pictures to your site, you will most likely be accepted into the program.
There is a one time set up fee of $50.00 which covers the processing of your application. This fee will be refunded if you are not approved.
Members are required to pay monthly membership dues of $29.95 in any month in which they do not sell $100.00 in merchandise (Merchandise only, not including shipping, and valued at wholesale cost). Membership dues are charged on the first or second week of each month and charged to the credit card supplied on the enrollment form. Membership dues are charged for the previous month, not the current month. Dues will commence the month following enrollment. A decline of credit card for monthly membership dues may result in termination of your membership if not resolved within 3 business days.
A valid credit card will need to be provided and kept on file for all dropship accounts. Once approved, we will contact you for this information.
Please Note: We do not approve applications for ebay or amazon stores. You must have your own independent domain and website.
 
For the wholesale program you need to be properly registered as a business and provide information related to your business to be considered.
 
Please Note: Steel Tiara, reserves the right to refuse any application that does not meet our criteria. Sites which promote violence, contain pornography or other material which we deem offensive or discriminatory will not be considered.
 We will review your information as quickly as possible (usually within 1-2 business days) and inform you whether or not you have been accepted into the program.
Once we have notified you that you have been accepted into the drop ship program, we will email you an excel spreadsheet with the photos, description, Suggested Retail Pricing, Your pricing, and shipping rate. We will also provide you with your personal promo code to receive your wholesale price. You simply select which products you would like to offer and load them onto your site.
 
Remember our suggested retail price is simply a suggestion. You will be charged the wholesale cost, plus shipping and taxes (if applicable). The price you charge for the products is solely at your discretion.
If you have any comments, we'd love to hear from you!
FAQ
How do I join?Simply go here and fill out the form. We will contact you generally within 1-2 days to let you know if you are approved or not
Do I have to use your MSRP?No, we simply offer you a MSRP. You may charge any price you feel necessary.
We will never contact your customer in an attempt to steal them from you.
We offer an honest 10% profit margin. Some other drop shippers may promise you more and so could we. But we do not want to over price our products. Realistically you want to make money and so do we. Between the two of us we have a fair mark up. Not an over inflation of the prices to make it look like you will make more. Your customers will feel they have gotten a good price on a beautiful product when they receive our products.
Steel Tiara is not a middle-man, club or some kind of association. We are the actual designers, manufacturer and warehouse for our products. We are not a collaboration of several different people. We are and always have been a family owned and operated business. Each and every single customer matters to us. We build all of our products right here in our facility.
We provide top-notch customer service. You can speak to a sales associate Monday through Friday from 8:00 AM PMT to 5:00 PM PMT each and every week. We want to speak with you and hear your opinion. Your opinion helps us improve our company.
Does your program have any monthly fees or account set up fees?Our program does have a $29.95 membership fee in any month in which you do not purchase $100.00 in merchandise. However, if you purchase $100.00 in merchandise in that one month we waive the 29.95 monthly membership fee. We do not have any set up fees or annual dues.
We do offer shipping to PO Boxes. However, all these shipments take one to two additional days to ship out. In addition there are no loss claims, late delivery refunds or damage claims honored under any circumstances. You ship these orders at your own risk.
How do I know if a product is out of stock?We make all of our products, so the chance of us running out of stock is minimal.  If for some reason we are having issues acquiring raw material we will email all of our wholesale clients and inform them of the delay. We know you are busy and it's our job to keep you informed.
How do I know when my order has shipped?Our online order system will automatically send you an order confirmation along with a tracking number when your order ships.
What happens if my product gets lost or damaged in transit?We will place a claim with the courier. Once the claim has been completed and not before, a refund or reshipment will be offered. Claims typically take 3-5 days to process with the shipping couriers. (Shipments going via USPS do not offer claim service.) All damage claims must be filed in writing via fax or email within 3 business days of the gift being received. NO exceptions. We will not honor damage claims several weeks old under any circumstances.
Can I include my business card or catalog with my orders?Yes! We will gladly insert any and all marketing materials you may have in with every order you place with us. This is a free service and we do not charge extra for it.
Will my company name be on the package?Yes! We will put your company name on the shipping label along with your phone number! Our address will only appear in the event the package is returned by UPS as non-deliverable. And do not forget as an added bonus every card enclosure also has your company name, phone number and web site address on it.
Can I cancel my membership if I want to?Yes, you may cancel your standard membership at any time with written notice. We do not accept cancellations over the phone. All images must be removed from your site prior to cancellation. Membership fees will continue to be charged as long as you use the Steel Tiara images on your site. Cancellations will not be honored if your web site is still using the Steel Tiara images. Membership dues are due and payable for the month in which you cancel and are not refundable. It is at all times the sole responsibility of the client to verify receipt of any and all e-mailed or mailed cancellation notices. Cancellations are not accepted over the phone.
How do I cancel my membership?All cancellations must be sent via mail or email. We do not accept cancellations over the phone. All images must be removed from your site for your membership to be cancelled. In addition the monthly membership fee is still charged in the month in which you cancel if you do not meet the $100.00 merchandise minimum. Cancellations will not be honored if your web site is still using the Steel Tiara images.
How do I obtain your images?Once your membership has been approved we will email you all of the pictures, msrp, wholesale price, shipping, and description.
Do you offer descriptions for your products? We do offer complete descriptions for each and every one of our products. All of our information is available in an Excel format so you will need Microsoft Excel or open office which is a free software to use our information. We simply have far too many skus to offer the information in a simple word document.
How long does it take for an order to ship out?Orders typically take 1-2 weeks to be processed in our high precision facility.  Once the package has been manufactured and sent out for shipping you will receive an email with the tracking number.  Parcels typically take 3 to 7 days for delivery.  These pieces are worth the wait.
Can I cancel an order after it has shipped? You have 4 days to cancel the order after purchasing as most items are custom and cannot be re sold.  
We hope you will join the Steel Tiara family and will appreciate our effort to offer the best selection at the best price with the fastest delivery available. Welcome to Steel Tiara; feel free to message us anytime!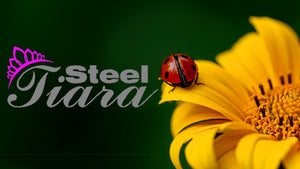 Enter the VIP Group
-You will recive an instant promo code that is good for 10% off.
-The promo code never expires as long as you use it on the website or Etsy Site
-Recieve notifications of unadvertised sales
- Be the first to be notified of new products