FAQ'S
What happens to my personal information? Is it kept private?
For your protection, if you choose a direct payment gateway such as a credit card to complete your purchase, your payment will be processed through the Payment Card Industry Data Security Standard (PCI-DSS). At no time does Steel Tiara staff see or have access to your card information
I haven't received an email confirmation for my order - why?
Orders are processed daily Monday-Friday from 10am-6pm Pacific Time excluding Holidays. Order processing may take up to 3 business days.
When you place an order with us you can expect to receive an email confirmation at the time you place your order. You will also receive a shipping notification email for each package that is sent to you.
If you have not received an email confirmation when you place your order, please check your junk folder, or alternatively please contact our customer services and we will check your order has processed correctly and resend your confirmation email.
Do I need to create an account?
You do not need to create an account to buy from our stores, however we recommend that you do as this provides you with the ability to see the progress of your order and view your order history. You will be offered the opportunity to create an account after you make any purchase in the store and you will receive a link with an email to complete the setup of your account. If you do not wish to create an account you can still place your order as a guest user.
I'm having trouble signing in, what shall I do?
If you are unable to log into your account, please try the following:
1. Click the 'reset your password' link and a new password will be sent to your email address.
2. If you do not receive a 'reset your password' email please double check that the email address you entered is the one associated with your account
3. If you still cannot access your account, please contact us using the contact form and we will look into the issue for you.
Why was my credit card / PayPal declined?
If you have received a notification from us stating that your credit/debit card or Paypal order has been declined, it could be for any number of reasons (even just down to entering your details incorrectly).
Please note that it is your bank / Paypal, and not us, that has declined the transaction and they will only tell the account holder (i.e. you) their reasons for doing so. Please contact them for further information.
Can I make a change to my shipping address?
We have a 24 hour period where the shipping address can be changed. After the 24 hours has elapsed we can not make any changes to the address. If you would like to change your address, please complete and submit the online contact form and include the correct shipping address. The customer service team will try and make the make the changes for you before it is shipped. We will do our best to try and make this happen for you, we realize mistakes happen.
If you entered the incorrect address at the time of ordering and your goods have been shipped, there is unfortunately nothing we can do to retrieve the package. Often the package will find you if the postcode/ zip code was correct and the other details were incorrect albeit a little later than anticipated. Should the goods be returned here, we will contact you to let you know and arrange for them to be shipped to the correct address.
Can I cancel my order?
If you wish to cancel or make changes to an order you've placed, we have a 12 hour period where your order can be changed or canceled. After the 12 hours has elapsed we can not make any changes to your order. If you wish to make any changes please complete and submit the online contact form and we will arrange to change or cancel the order. You can only cancel an order during the 12 hr window after your order has been placed. Please note we charge $4.99 for canceled orders.
Questions about orders already received
I have received my order and it is damaged / faulty, what can I do?
If you have received a damaged or faulty item, please contact our customer services agent via the online contact form. Please include in your message a description of the damage and wherever possible attach photographs showing the damage or fault. We will assess the damage and either refund the order or send you a replacement as appropriate. All damaged shipments must be reported within 7 calendar days. We will make every effort to replace damaged items within this time, however, we cannot be responsible reported within this time. Please keep all damaged merchandise and packaging as it may be requested by the carrier.
I have received my order but you have sent me the wrong item?
If you have received your order and we have inadvertently sent you the incorrect format or the wrong item altogether - we're terribly sorry! Please contact us via the online contact form and we will arrange to send you the correct product or arrange a refund.
I'd like to return my order?
If you have received an order and need to return it, Please review our returns policy then complete and submit the online contact form and we'll get back to you as soon as possible with returns information. Please note that the returned item/s must be in unused pristine condition.  
How long will it take me to receive my order?
Each Item is custom made, and manufactured just for you. Once the item has been ordered this process takes:
Orders typically take 2-3 weeks to be processed in our facility. Once the package has been processed and sent out for shipping you will receive an email with the tracking number. Parcels typically take 3 to 7 days for delivery once shipped. Trust us, these pieces are worth the wait. 
Shipping to remote locations, may require more time and an increase in shipping costs.
My order still has not arrived after the estimated delivery time. What should I do?
If this time has elapsed and you still haven't received your package then we're extremely sorry for the delay, please get in touch with us using the contact form and we'll get back to you. We will not be held responsible for delays due to weather or other acts of god.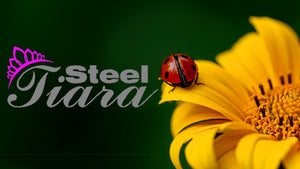 Enter the VIP Group
-You will recive an instant promo code that is good for 10% off.
-The promo code never expires as long as you use it on the website or Etsy Site
-Recieve notifications of unadvertised sales
- Be the first to be notified of new products