About us
Steel Tiara went online as a retailer in 2014 as a family owned and operated business. Located in beautiful British Columbia, we are able to draw inspiration for some of our original artwork from nature and enjoy trying to capture the spirit of the outdoors in our scenes. We are excited to create and treat each piece as an individual challenge to achieve the best look possible.   We are constantly learning and evolving; new ideas and methods are always welcome and investigated.  All design, cutting and fabrication is done in house; no middle man. While we specialize in custom projects and making your visions come to life we have made it our mission to provide quality artwork with our unique flare.  Our selection and service is unparalleled. 
Owner/Artist: Colleen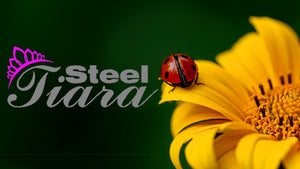 Enter the VIP Group
-You will recive an instant promo code that is good for 10% off.
-The promo code never expires as long as you use it on the website or Etsy Site
-Recieve notifications of unadvertised sales
- Be the first to be notified of new products